Thursday, June 1, 2023, the 9th Annual Symposium of the Pediatric Spine: Best in Class Non-Operative Treatment for Scoliosis took place at the Vivian and Seymour Milstein Family Heart Center in New York City.
This course covered a variety of topics in order to provide the latest advances in conservative scoliosis care, including current literature and updates in bracing, casting, and physical therapy. The course directors' goal was to provide participants and faculty a forum for interaction and collaboration. Attendees were welcomed to speak up, ask questions, and engage.
Course Directors:
Prachi S. Bakarania, DPT,
Amber Sentell, PA, and
Michael G. Vitale, MD, MPH
Thank you for your continued support of the Columbia Orthopedics conservative spine care team.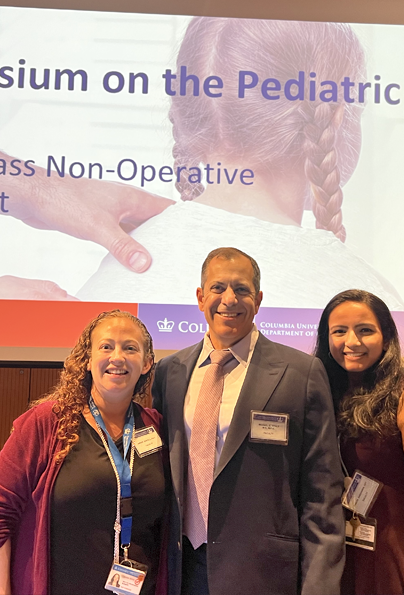 Course Description
The Ninth Annual Pediatric Spine: Best in Class Non-Operative Treatment for Scoliosis CME is an opportunity to learn about state-of-the-art, non-operative treatment of scoliosis across the ages. Patients with juvenile and adolescent scoliosis have many treatment options, including physiotherapeutic scoliosis specific exercises and Rigo Cheneau type bracing. Experts from CUIMC Center for the Non-Operative Treatment of Spine and Scoliosis and visiting lecturers will share their knowledge through presentations and demonstrations of best practices.
Participants can expect expect to obtain a deeper comprehension of the threedimensional aspects of scoliosis, and the fuller understanding of the treatment options. The faculty and speakers are among the most experienced in the field, bringing expertise in bracing, casting, and therapy for childhood scoliosis. We will also address concerns about scoliosis after skeletal maturity. This activity is designed for providers who are treating patients with scoliosis and would like to assess the risk versus benefits of surgical treatments and non-operative treatments. Physical therapists, orthotists, and physicians are strongly encouraged to attend.
At the conclusion of this activity, participants will be better able to:
Discuss the role of tethering in this population
Describe growth markers and the role they play
Discuss how EDS and hypermobility can affect your treatment plan for this population
Identify the role of bracing for this population
Promote and appreciate the patient-initiated Not a Deformity movement
Discuss surrounding evidence of PSSE and bracing
View photos from this course, and helpful links, below.