Established in 2016, the 24-item Early-Onset Scoliosis Questionnaire (EOSQ-24) has become an important outcome measure that assesses the health-related quality of life (HRQoL) of patients with early onset scoliosis and the impact of their care on their families.
Translated and validated in nine languages, the questionnaire has been used to:
Compare parents' opinions of their child's pulmonary function to the actual findings of pulmonary function tests
Ascertain the influence of growth-friendly treatment for spinal muscular atrophy and cerebral palsy
Compare HRQoL outcomes of treatment with the use of traditional versus magnetically controlled growing rods
While EOSQ-24 has well served the international EOS registry with more than 25,000 questionnaires collected from over 10,000 patients, it is aimed at parents and caregivers. Adolescents frequently develop their own perspectives about their health that can differ from their parents' observations.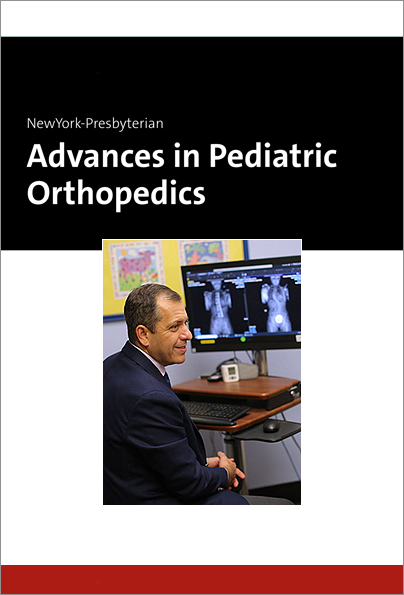 In fact, Michael G. Vitale, MD, MPH, Director of the Division of Pediatric Orthopedics at Columbia and Chief of the Pediatric Spine and Scoliosis Service at NewYork-Presbyterian Morgan Stanley Children's Hospital, and his orthopedic colleagues have previously reported on discrepancies in health-related quality of life ratings between children and parents. They also found that differences pertaining to physical functioning, general health, and mental health were greater among older children compared with younger children.
"It is very important for older children and adolescents to be able to self-report their health-related quality of life outcomes and not to rely exclusively on reports submitted by parents and caregivers," says Dr. Vitale. "Self-reporting is also vital for studying outcomes in skeletally mature adolescents who have completed treatments for their scoliosis."
With that in mind, the Columbia doctors recently led a multicenter study aimed at developing and validating a patient-reported outcome that measures health care-related quality of life for older children and adolescents (8 to 18 years) with EOS. In developing the Early-Onset Scoliosis Self-Report Questionnaire – EOSQ-SELF – the researchers began their work with an extensive review of the literature in order to understand issues that would be important for older children and adolescents with EOS.
Compiling domains and items, along with those from the EOSQ-24, the Scoliosis Research Society 22- and 24-item questionnaires (SRS-22 and 24), and the Scoliosis Appearance Questionnaire, the investigators presented the materials to an expert focus group of surgeons, epidemiologists, nurses, and therapists to detect any potentially important issues that might be missing. Additionally, 12 patients with EOS between the ages of 8 and 18 at NewYork-Presbyterian Morgan Stanley Children's Hospital participated in semi-structured interviews to further identify relevant domains and question items. Content validity was evaluated for clarity and relevance of questions by the expert panel, as well as by 91 patients with EOS. Their comprehensive approach to creating EOSQ-SELF was published in the August 3, 2022, issue of The Journal of Bone and Joint Surgery.
"The EOSQ-SELF is the first instrument, to our knowledge, to gain direct insight from patients within this population. Achieving a better understanding of a patient's true health care-related quality of life can aid clinical decision-making and impact the quality of care for older children and adolescents with EOS." — Dr. Michael Vitale and study authors
In all, the research team identified 59 questions in 14 domains. Sleep, appearance, relationships, and family dynamics (which was ultimately related irrelevant) were new domains identified by the literature review and expert focus group.
A group of 111 patients, the majority of whom had idiopathic scoliosis, completed the 59-item questionnaire; 81 patients examined the content validity and determined that:
All 59 items received an average rating of >3, indicating that the items were clear
For relevance, 9 items rated <3 on average, indicating these may be irrelevant for the targeted population
The final EOSQ-SELF was further condensed to 30 questions across the following 12 domains:
General Health
Pain/Discomfort
Pulmonary Function
Transfer
Physical Function/Daily Living
Participation
Fatigue/Energy Level
Sleep
Appearance
Relationships
Emotion
Satisfaction
The EOSQ-SELF was not validated in patients younger than 8 years of age. The authors noted, "Although children may be capable of describing tangible physical experiences as early as 5 years of age, literature suggests that they can express abstract concepts as early as eight years of age. We considered HRQoL to be more abstract than tangible. Future studies can determine whether patients 5 to 7 years of age are able to self-report HRQoL."
Going forward, Dr. Vitale and the team will assess EOSQ-SELF responsiveness by observing changes in scores before and after interventions. Normative values will be ascertained by administering the EOSQ-SELF to age-matched healthy peers to create a scale score. This will enable a comparison of EOSQ-SELF and EOSQ-24 scores and the use of the EOSQ-SELF together with the EOSQ-24 as part of an age continuum. These comparisons will allow for the creation of two EOSQ instruments: EOSQ-24 for younger children and EOSQ-SELF for older children and adolescents.
The authors added, "The EOSQ-SELF is the first instrument, to our knowledge, to gain direct insight from patients within this population. Achieving a better understanding of a patient's true health care-related quality of life can aid clinical decision-making and impact the quality of care for older children and adolescents with EOS."