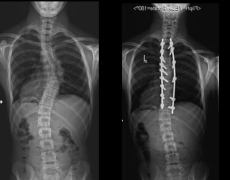 Andrew was 13 when he first presented to our office. He has a positive family history of scoliosis with his older brother having a spinal fusion. I had a discussion with Andrew and his parents about non operative treatment of scoliosis.  I recommended both bracing and Schroth physical therapy.  He started this right away.  We discussed various brace options and ...
MORE >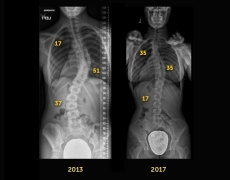 Kate was a 13 year old when she presented to our office.  She had a 48 degree main thoracic curve.  We spoke about the fact that she had lots of growth left and her curve was in a surgical range.  We did spend some time talking about some other options including bracing, Schroth physical therapy, and observation.  They went to ...
MORE >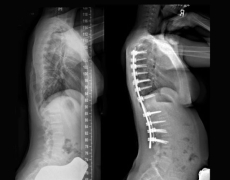 Emma is a 13 year old competitive dancer; performing jazz, tap, lyrical, ballet, and modern dance! She came to see Dr. Vitale when she was first diagnosed with adolescent idiopathic scoliosis at age 12. At that time her main curve was already 53 degrees. A curve of this size in a growing child has an extremely high likelihood of progressing. ...
MORE >