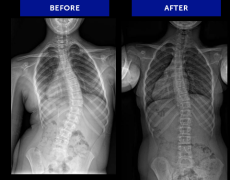 Juvenile Idiopathic Scoliosis, NYRC bracing This is a 9 year old who came to our office for the first time with a 50 degree curve. We spoke about options which included bracing and surgery. We spoke about the fact that since she was so young we would recommend a MAGEC insertion. After considering the options, Janelle and her family decided on ...
MORE >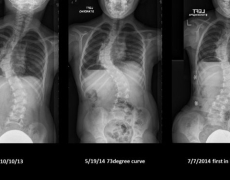 Starla first came to our office at the age of 5 as a second opinion for Early Onset Scoliosis. Starla's aunt first noted asymmetries. Upon X-Ray, Starla had severe thoracic and lumbar curves of 55 and 47 degrees.  With severe curves, we discussed bracing, casting, and surgical interventions.  Her parents wanted to postpone surgery as long as possible, as a ...
MORE >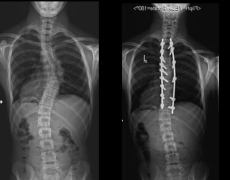 Andrew was 13 when he first presented to our office. He has a positive family history of scoliosis with his older brother having a spinal fusion. I had a discussion with Andrew and his parents about non operative treatment of scoliosis.  I recommended both bracing and Schroth physical therapy.  He started this right away.  We discussed various brace options and ...
MORE >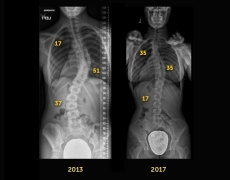 Kate was a 13 year old when she presented to our office.  She had a 48 degree main thoracic curve.  We spoke about the fact that she had lots of growth left and her curve was in a surgical range.  We did spend some time talking about some other options including bracing, Schroth physical therapy, and observation.  They went to ...
MORE >