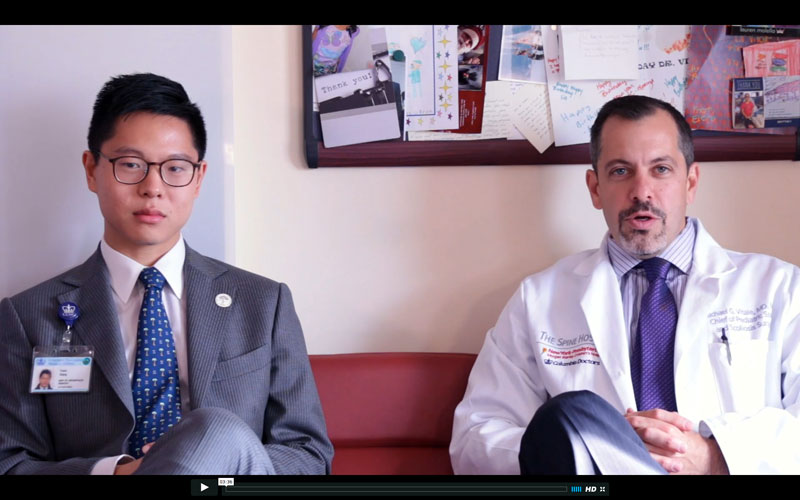 The cost of surgical site infections (SSIs) and other so-called "never events" adds up quickly. Hospital stays are extended and surgeons lose time returning to the operating room (OR). More importantly, there is the emotional toll that SSIs take on patients and their families, anguish that is compounded when dealing with children.
Remarkably, despite high volumes of complex patients, the pediatric spine team at NewYork-Presbyterian/Morgan Stanley Children's Hospital has not experienced an SSI since July 2015.
"It's taken tremendous teamwork and lots of effort, but the effort has certainly paid off. Things were not always this way," said Michael Vitale, MD, MPH, who serves as Chief of Pediatric Spine and Scoliosis Surgery and Co-director of the Division of Pediatric Orthopedics at NewYork-Presbyterian/Morgan Stanley Children's Hospital, and Chief Quality Officer in the Department of Orthopedic Surgery at NewYork-Presbyterian/Columbia University Medical Center. "We do over 300 surgeries a year, over 20 fusions a month, and we are a major referral center for children with complex pediatric spine problems. So, we're extremely proud of our extraordinary track record," said Dr. Vitale, who is Ana Lucia Professor of Pediatric Orthopedic Surgery, Columbia University Medical Center.
The Team Approach Is Key
How have Dr. Vitale and his team achieved such stellar success in complex surgeries? Dr. Vitale, who is always looking to improve OR safety, introduced his team to the Comprehensive Unit Safety Program (CUSP), which aims to build teamwork and improve safety and throughput in ORs. The program employs a scientifically valid five-step process developed by safety and quality researchers at Johns Hopkins.
"We looked at highly reliable organizations, like aircraft carriers and nuclear submarines, and how those teams function like well-oiled machines with a near-zero failure rate," said Kevin Wang, Quality Officer at Columbia Orthopedics, who facilitates the CUSP implementation between staff and administrators. "Then using everyone's commitment to make care better, we brought together a team to implement a framework that would bring our infection rate down to zero."
"By asking, 'How will the next patient be harmed?,' we can figure out everything that's wrong, from surgery starting late to a trash can placed too far away from a surgeon. We're able to start with the day before surgery to prep the patient and the room and continue all the way to recovery. That reduces the harried need to compensate for mistakes, which lessens the chaos," he said.
By jotting down every problem-big and small-the team creates mutual goals, such as to prep the OR earlier, start surgeries on time and decrease room traffic, which reduces potential sterility breaches. The early prep work breeds efficiency, ensuring x-rays hang properly, equipment is readily available and neatly organized, and trash cans are easily accessible but are not obstructions.
As for throughput, "we've increased flow of patients through processes, reduced inefficiencies and waste within the hospital, and hopefully made it a better and safer place to deliver the best care possible," Mr. Wang said.
"The CUSP (Comprehensive Unit Safety Program) work facilitates NewYork-Presbyterian/Morgan Stanley Children's dedication to extraordinary care," Dr. Vitale noted. The hospital's three tenets of extraordinary care-quality and safety, patient experience and great working environment for the staff-are evident from not only a full year without an SSI, but also the heartwarming letters Dr. Vitale and his team receive from the children they've treated and their parents, and the dedication the staff shows to improving patient outcomes.
The results speak for themselves, but will they last? "To sustain change, you need to create a sustainable culture," Dr. Vitale said. "That's what we're doing when we listen to the voices of everyone on the front lines. The people on the front lines create the checklists, change what's on the checklists and are given a voice."
"If you want to see long-lasting change in the system, there's no better place to start than within your own institution and within your own team," Mr. Wang said.