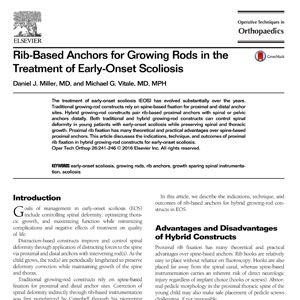 Dr. Michael Vitale Was the Guest Editor for Dec. 2016 Operative Techniques in Orthopaedics, Focusing on Early Onset Scoliosis
Article 1: Introduction
In just 15 years, there has been an amazing evolution both in the philosophy toward the approach of young children with scoliosis as well as with regard to available technologies. Those of us taking care of patients with early onset scoliosis have had the good fortune to practice in an exciting era of change offering possibilities for much better outcomes for these patients. Supporting this rapidly changing field, we are also fortunate to have 2 well-functioning study groups which have facilitated a tremendous amount of research in the field.
The current issue of Orthopaedic Today focuses on some of these new options for children with early onset scoliosis, presented by true mavens in the field.
Article 2: Rib-Based Anchors for Growing Rods in the Treatment of Early-Onset Scoliosis
Goals of management in early-onset scoliosis (EOS) include controlling spinal deformity, optimizing thoracic growth, and maximizing function while minimizing complications and negative effects of treatment on quality of life.