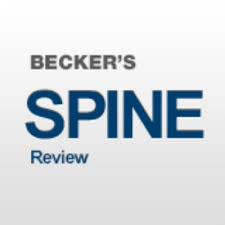 First, do no harm: Drs. Michael Vitale, Lawrence Lenke on 2nd Safety in Spine Surgery Summit — Becker's Spine Review on Spine Safety
From Becker's Spine Review on Spine Safety:
A significant gap in spine surgery safety awareness struck Michael Vitale, MD MPH, of New York City-based NewYork-Presbyterian/Columbia Orthopedics, in 2012.
Although physicians fiercely respect their oath to do no harm, complications happen.
"If we're just a little more thoughtful about slowing down the machine, optimizing better teams and developing infrastructure to protect patients, we can avoid a lot of these things," explains Dr. Vitale. "It's a miserable thing being a surgeon trying to do good, and being the executor of patient harm."
So, Dr. Vitale called on national experts to collaboratively develop specific goals and deliverables on decreasing surgical site infections following spine surgery.
The initial meeting of 24 participants proved fruitful, eventually leading to the publication of best practices to avoid SSI in spine deformity. Driven by an energy to improve other areas of spine safety, Dr. Vitale held the meeting again in 2014 with a focus on optimizing responses after intraoperative neurological monitoring changes. The resulting paper from this meeting turned into a checklist to which most spine deformity surgeons frequently refer.
"People were clamoring to be part of the work, and we had an obligation to get the meeting to scale," remembers Dr. Vitale.
So, the Safety in Spine Surgery Summit was born in 2016, drawing a standing-room only crowd from across the United States and many other countries. On Feb. 10, 2017, Dr. Vitale chaired the second annual summit in New York City, attended by 200 people. Unfavorable weather did not deter attendance from around the nation; Dr. Vitale observed people viewed the meeting as a "fundamental mission…a sacred responsibility."
To read more please follow this link: http://www.beckersspine.com/spine/item/35626-first-do-no-harm-drs-michael-vitale-lawrence-lenke-on-2nd-safety-in-spine-surgery-summit.html