The Bent Not Broken Award was presented to Dr. Michael Vitale on Monday, October 23, 2023 at the TPFF Gala. This award celebrates individuals, organizations, or initiatives that have made significant contributions to clinical research in their industry through innovative approaches, advancements, and groundbreaking achievements. It honors the commitment, and resilience of those who work tirelessly to improve health and the lives of those facing physical and mental health challenges.
This year The Bent But Not Broken Award is presented to Dr. Michael G. Vitale, a world-renowned specialist in the non-operative and operative treatment of complex pediatric scoliosis and spinal disorders, performing approximately 200 scoliosis procedures every year—half of which are in children less than 10 years of age.
He also has a special interest in the conservative management of scoliosis and leads a best-in-class team of Schroth scoliosis therapists, Rigo-Cheneau style bracing experts, and cast technicians with extensive experience at Mehta casting.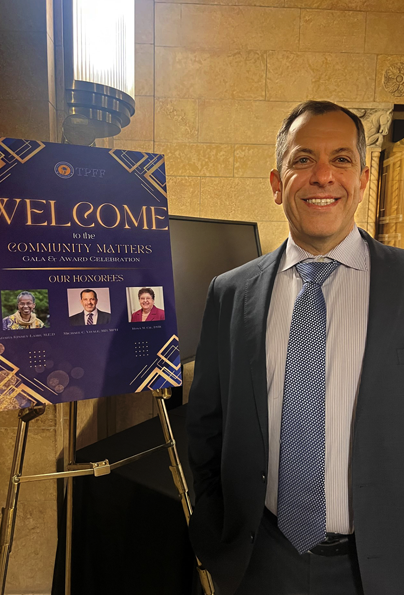 More About TPFF
TPFF is named after Paige Fraser-Hoffman, who was diagnosed with scoliosis which threatened her dream of becoming a professional dancer. With non-operative care, hard work and true grit, she realized her dream and is now on Broadway in The Lion King. Dr. Vitale's work to improve the lives of those with scoliosis is a testament to the relentless pursuit of excellence in advancing, improving, and making a positive impact in the lives of individuals.
Established in 2017, TPFF offers programs for local communities, and beyond, in the performing arts and wellness. The organization aims to build confidence and empower community residents to reach their personal and professional goals and, in the process, build practical life skills.
Photos from the TPFF Gala