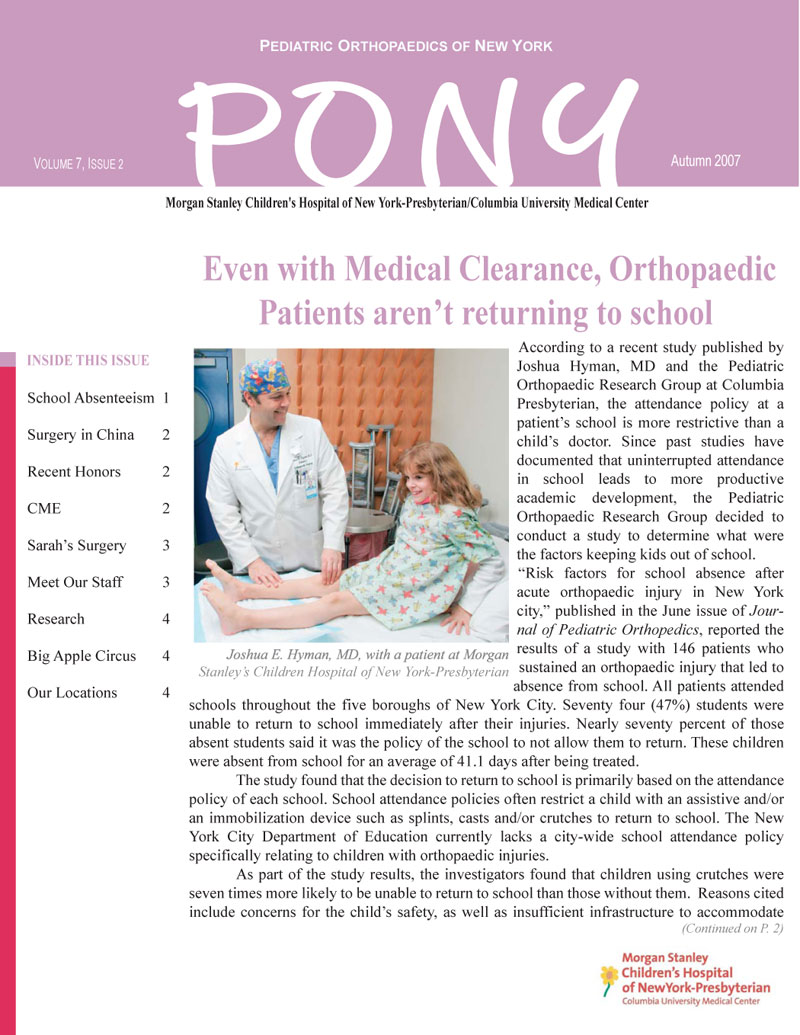 According to a recent study published by Joshua Hyman, MD and the Pediatric Orthopaedic Research Group at Columbia Presbyterian, the attendance policy at a patient's school is more restrictive than a child's doctor. Since past studies have documented that uninterrupted attendance in school leads to more productive academic development, the Pediatric Orthopaedic Research Group decided to conduct a study to determine what were the factors keeping kids out of school.
"Risk factors for school absence after acute orthopaedic injury in New York city," published in the June issue of Journal of Pediatric Orthopedics, reported the results of a study with 146 patients who sustained an orthopaedic injury that led to absence from school. All patients attended schools throughout the five boroughs of New York City. Seventy four (47%) students were
unable to return to school immediately after their injuries. Nearly seventy percent of those absent students said it was the policy of the school to not allow them to return. These children were absent from school for an average of 41.1 days after being treated.
The study found that the decision to return to school is primarily based on the attendance policy of each school. School attendance policies often restrict a child with an assistive and/or
an immobilization device such as splints, casts and/or crutches to return to school. The New York City Department of Education currently lacks a city-wide school attendance policy specifically relating to children with orthopaedic injuries. View complete article