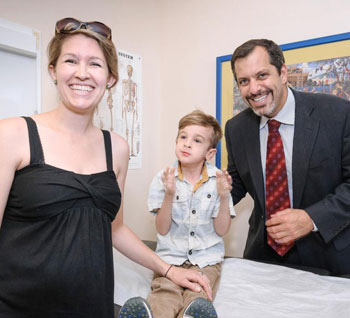 Courtesy NY Daily News
Call it medical magic — make that MAGEC (Magnetic Spine Lengthening Treatment).
Doctors at NewYork-Presbyterian Hospital are now reaching for the handheld MAGEC device instead of their scalpel when they treat patients with early-onset scoliosis, characterized by a spinal curve that begins before age 8.
Jeremiah Knowlton, 6, of Allendale, N.J., is the first patient in the New York area to undergo spinal-lengthening treatment with the fast-acting, noninvasive, painless MAGEC (MAGnetic Expansion Control) device. Left untreated, early-onset scoliosis can seriously affect lung function and lead to a shorter lifespan, according to Dr. Michael Vitale, chief of the pediatric spine and scoliosis service at Morgan Stanley Children's Hospital of NY-Presbyterian/Columbia University Medical Center. The lungs need the spine to be straight enough so that they can grow properly.
"We pay a lot more attention to young children with scoliosis for those reasons," said Vitale, who performed Jeremiah's initial surgery and last week's first rod lengthening procedure using the MAGEC tool. He calls the technology "a game-changer."
It's a welcome relief for the Knowlton family, whose little boy was born with a 25-degree curve that only got worse as he grew older. His scoliosis was visible to the naked eye, and he requires leg braces and a walker to move. Jeremiah's younger brother, as well as the third child mom Grace is pregnant with, do not appear to have any health concerns.
And Jeremiah's scoliosis is not the only medical ordeal the family has faced: Jeremiah is nonverbal, and was born with a cleft lip and palate. He did not fully develop neurologically, but knows letters and colors and can speak via an iPad.
"I had always wanted to be a mom," Grace said, "so it was a lot of extra mom things to do, but he was worth it."
To correct his scoliosis, Jeremiah first had surgery in April to implant an adjustable rod in his spine. In that surgery alone, Vitale was able to reduce his spine curvature from 72 degrees to about 20 degrees — a 50-degree correction, when only 30 degrees were expected.
As a result of the surgery, Jeremiah could stand up and walk around on his own. Doctors expected him to be feeling back to normal in two months — he did so in half the time.
At last week's first lengthening procedure Vitale took the hand-held MAGEC device and glided it over Jeremiah's back so it synced with the rod and could pull it 5 millimeters. It took just a few minutes. Jeremiah will have the noninvasive procedure — which is done to keep up with normal spine growth and maintain the curve correction — every three months until he's a teen.
"The ultimate goal is to get the child close to the end of growth with a spinal length more or less the same as normal," Vitale said. "This allows normal lung growth and avoidance of the problems which can occur if the curve progresses."
The MAGEC device has already been used in 24 countries to treat more than 750 children, but only became FDA-approved in February. Vitale is grateful that the FDA pushed it through, despite early-onset scoliosis' rarity. It affects just 10% of all kids with scoliosis.
"I have to give (the FDA) a lot of credit," he said. "They got it. They paid attention. No one really thought it would happen the way it happened."
The fact that Jeremiah got the surgery is a bit serendipitous: He was originally scheduled to have a traditional scoliosis procedure in early March that would require follow-up surgeries every six to nine months. But Grace and her husband had a funny feeling about that operation and canceled it just days in advance.
"I don't know how to describe it, but we're Christian, and I can't say God told me but it just felt like it shouldn't happen (at that time)," Grace recalled. "Praise God we didn't do that because we would have been gearing up for surgery again and I'm having a baby in a couple months!"On March 21, Vitale called them to say that he had access to MAGEC. The family jumped at the opportunity.
"We were kind of dumbfounded and laughing," Jeremiah's mom recalled. "I said, OK, I guess that's why we waited."
Now, Jeremiah — who loves music and sharks — can continue growing like a normal 6-year-old. He calls his appointments with Vitale "doctor adventures."
The family has been cheerful in the wake of the procedure, even pranking Vitale with a picture of kitchen utensils peeking out of Jeremiah's shirt, with a caption implying that the metal rod had picked up other household objects.
But in all seriousness, the Knowltons couldn't be happier with the results.
"His posture and the shape of his back looks beautiful," Grace said. "It's pretty incredible."