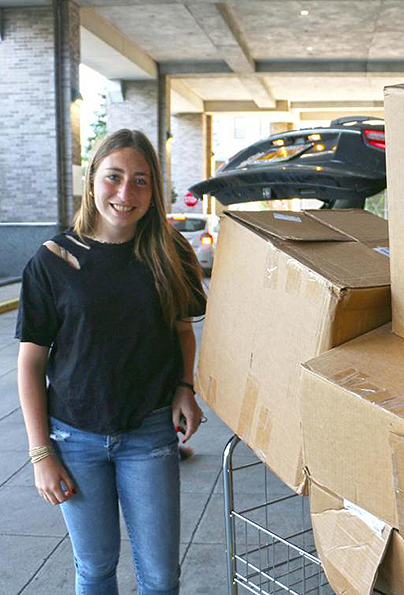 As soon as Maya was diagnosed with scoliosis going into the 5th grade, her family was referred to Dr. Michael Vitale, at Columbia University Irving Medical Center and NewYork-Presbyterian Morgan Stanley Chilren's Hospital. Maya wore a brace for a few years, but it became clear she needed surgery. Dr. Vitale performed a spinal fusion to fix the curve in her spine in 2018. "Dr. Vitale and his team did a great job of letting me know what was going to happen and walking me through all the steps. It was really comforting," said Maya. Since surgery, she has been seeing Dr. Vitale every six months for routine checkups and was recently discharged in spring of 2021.
"We had hoped to continue some sort of donation every year as a way to give back to the teams that helped us so much. In 2019, we worked with the NYP Morgan Stanley Children's Hospital Child Life Specialist team to raise money for the toy fundraiser at Columbia for admitted kids, " said mom, Meredith.
In 2020, Maya joined Curvy Girls, an online international scoliosis peer support group for girls and is where she learned about Higgy Bears.
"Once I found out about Higgy Bears, I knew I needed one. They are stuffed animals with spine braces, and you are able to match their spine brace with yours. I thought this was so cool and ended up getting my own, which is a unicorn. After thinking about it, I really wanted to get Higgy Bears for kids being diagnosed in the hospital or for those who have to spend a longer period of time in the hospital like I did. It would have been so helpful to have a replica stuffed animal with me during my time in the hospital. So, I started immediately raising money for donations in 2020," said Maya.
In May of 2021, Maya and her family dropped off over 120+ bears to the Columbia Pediatric Orthopedics offices. They will be donated to families and patients just like Maya. "As one of biggest and fastest growing fundraiser Higgy Bears has had to date, I am just so proud of Maya and thankful for all the Columbia team has done for us," said Meredith.
"These bears will make a lot of our patients a lot less anxious when going through their care journey and help them get better, just like Maya. We are very thankful for this donation and the impact Maya, and her family, will have on these other families in the future," said Dr. Michael Vitale.
"We are forever grateful for Dr. Vitale and his team. They are all fabulous and were great through the entire process. We also had great experiences with John from East Coast and the Child Life team. When you are in the hospital for six days, it feels like you moved in and you get to know everyone. The team was so caring and spent so much time with us. My advice to other parents, is that you will get through this, you aren't alone, and it is not as awful as it seems. Use resources that are available like curvy girls, or Dr. Vitale's list of parents and families you can talk to. There is no sugar coating, this a rough surgery, but the results and Dr. Vitale's team make it so much better," said mom, Meredith.
Read more about Higgy Bears
See the update article we posted about Maya and Higgy Bears in January, 2023.