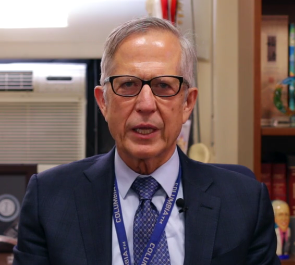 Patients living with cerebral palsy (CP) face lifelong medical care that is often invasive yet unable to slow the body's rapid decline. Additionally, patients with CP are approximately 10 times more likely than the general population to develop osteoarthritis.
"We need to address the declining quality-of-life phenomenon we often see in adults who stop getting treatment because they feel helpless," said David P. Roye, Jr, MD, Co-Director of Pediatric Orthopedic Surgery at NewYork-Presbyterian/Morgan Stanley Children's Hospital, where he is Executive Director of the Weinberg Family Cerebral Palsy Center. "Even though the underlying brain injury causing the disease doesn't get worse, the impact on the musculoskeletal system continues," said Dr. Roye, who is the St. Giles Professor of Pediatric Orthopedic Surgery at Columbia University Medical Center.
How Measure Quality of Life? Ask the Patient
Dr. Roye and his team of researchers want to eliminate feelings of hopelessness that often set in for adult CP patients by addressing quality of life early in their lives.

"
It's very difficult to measure quality of life and to address specific ailments in cerebral palsy because there are so many comorbidities," said Hiroko Matsumoto, MA, Clinical Research Director at the Weinberg Family Cerebral Palsy Center. "Cerebral palsy patients go through various stages of pain and the pain manifests in different ways, which makes quality-of-life measurements for other diseases irrelevant for CP. Cerebral palsy has heterogeneous symptoms and pain is not measured very well right now, so pain care is not optimized."
The team has taken the lead in collaborating with 10 of the top children's hospitals around the country to create computer-adapted testing that an immobile CP patient can answer independently. "There's a paucity of data across the medical literature in self-reported quality of life for CP patients," Dr. Roye said. "We're on a mission to improve that. A surgical intervention needs to look at quality of life. A valid outcome measures if the patient is happier. Can the patient participate in life and the social fabric more easily? Did the surgery improve the patient's emotional well-being?"
While the National Institutes of Health-funded PROMIS (Patient-Reported Outcomes Measurement Information System) offers a comprehensive way to assess pain and quality of life, it is limited in use. "You need to be able to operate a computer mouse to answer the questions," Ms. Matsumoto said. "About 40% of CP patients have the cognition to answer, but they can't click a mouse. We're developing a program so they can answer independently instead of by proxy, which increases the validity of the data."
"It is tricky to create broadly positioned software that responds to an augmented communication device," Dr. Roye said. "Yet, we want those voices as part of our data. They're particularly important for future drug trials and novel therapies.
"A proxy may perceive pain and discomfort that a child with CP doesn't feel, so the proxy does not match what's self-reported," Ms. Matsumoto said. "We really want patients to self-report changes preoperatively and postoperatively."
Dr. Roye, Ms. Matsumoto, and their collaborators hope the improvements in self-reported quality-of-life measurements will help them track which surgical interventions improve a patient's well-being and decrease the burden of care.
As an example of a surgical intervention, Dr. Roye performs spinal surgery when the curvature of the spine exceeds 40 degrees. "That's when the curvature starts to get worse," Ms. Matsumoto noted. "Without surgical intervention, it's difficult to sit up in bed and the lungs don't have room to expand, which leads to respiratory problems." Similarly, Dr. Roye operates on the hip when the bone is long and the muscle is relatively short, which leads to dislocated hips and inability to sit comfortably.
"The data for these orthopedic surgeries is in the patient who is so much happier postoperatively," Dr. Roye said. "We see improvements in respiratory health, physical function, pain, fatigue and comfort. That is an improved quality of life."
Courtesy of NYP Orthopedic Surgery 2016