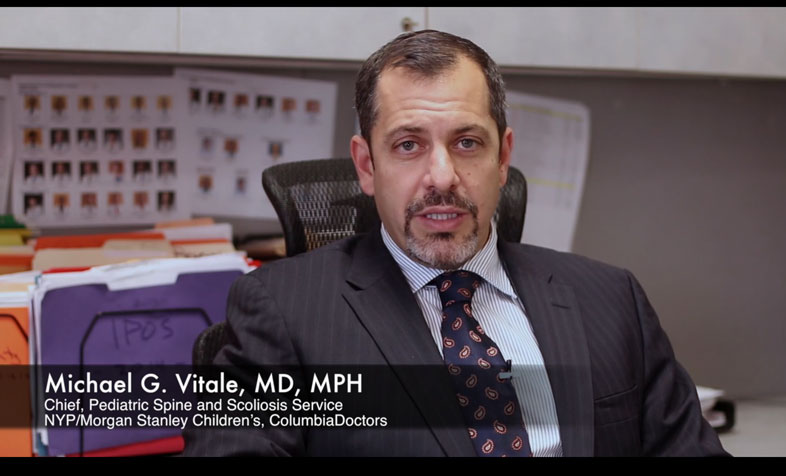 In this new era of health care, quality measures are becoming the driving factor among health care institutions. Physicians, surgeons and hospitals are being compared with other facilities and health care professionals. At NewYork-Presbyterian/Morgan Stanley Children's Hospital at Columbia University Medical Center, in New York City, doctors in the Orthopedics and Neurosurgery Departments joined forces more than a decade ago to make patient care a priority and improve quality assurance. The results have been stellar.
Few places in the United States feature this type of collaboration between these specialties. With attending surgeons from both orthopedics and neurosurgery working together, cases tend to move faster, have reduced operating times, require less anesthesia time, experience less blood loss and produce better clinical outcomes.
A Specialized Team Increases Quality and Safety
"One reason this doesn't happen everywhere is because there is often a personality issue," said Richard Anderson, MD, a pediatric neurosurgeon at NYP/Morgan Stanley Children's and Assistant Professor of Pediatric Neurological Surgery at Columbia University Medical Center, who specializes in the treatment of pediatric spinal disorders such as tethered spinal cords, tumors and complex cervical spine deformity. "You must have the right people working together to make it happen."
A key factor to quality and safety is bringing together a highly specialized team with a multidisciplinary approach. The team discusses cases in person, which allows several pairs of eyes—often up to a dozen—to confirm details and procedures for complex cases. "Decisions are better made in groups," said Michael Vitale, MD, MPH, Co-Director of the Division of Pediatric Orthopedics at NYP/Morgan Stanley Children's and Ana Lucia Professor of Orthopedic Surgery at Columbia University Medical Center, who specializes in the treatment of complex spinal problems, particularly early-onset scoliosis. "Patients get the benefit of multiple people's experience, especially the complex patients that come long distances."
The team holds a monthly interdisciplinary conference to review complex cases and discuss how to approach them. The team prioritizes an in-person meeting with 15 physicians in the room together, including surgeons, neurologists, orthopedists, anesthesiologists and nurses. "When we have complex patients, we end up seeing them together," Dr. Anderson said. "The multidisciplinary focus is the single most important factor to improved quality."
Quality Improvement Initiatives
"One of my first acts as chairman was to name Dr. Michael Vitale as our Chief Quality Officer (CQO)," said William N. Levine, MD, the Frank E. Stinchfield Professor and Chairman of the Department of Orthopedic Surgery at NewYork-Presbyterian/Columbia University Medical Center. "Michael has led the charge in quality and patient safety and is a nationally and internationally recognized leader in the field, so we are thrilled that he is leading this initiative. Working with our neurosurgery colleagues is critical to improving the care of patients and sets a standard of interdepartmental collaboration that helps to build bridges for the future."
This focus on quality and safety with pediatric spinal procedures has improved infection rates that were formerly above the national average (at 6%) to about 1% today, one of the lowest such rates in the country. Using a team approach, the specialists are able to serve a large number of patients as well. "Volume drives quality," Dr. Vitale said, noting that the higher patient volume helps inform not only the surgeons but other health care professionals as well, including nurses, anesthesiologists and pediatricians, about optimal care for spine patients.
Specialized infrastructure includes a pediatric neurological/orthopedic intensive care unit, which is one of the only facilities of its kind in the country dedicated to young patients with neural and spinal problems. "Pediatric orthopedics offers the ability to take care of children and have a big impact on children's lives in a very palpable way," Dr. Vitale said. "You can help children get back on the way to being active, healthy kids for the rest of their lives."
By linking quality to culture and communication, the Orthopedics Department pivoted priorities and goals to ensure every employee worked toward patient care. Fostering this quality improvement through ongoing employee education is key as well, Dr. Vitale said. He created a journal club for health care professionals to talk together, writes a newsletter that is shared widely and hosts regular meetings across the department. Each meeting begins with a safety measure update to highlight the importance of tracking this data.
The measures include quality improvement initiatives, infection prevention protocols and the development of algorithms to interpret changes in intraoperative neurophysiologic monitoring, which have been adopted by pediatric spine surgeons across the country. Spinal infections, for instance, can lead patients back to the operating room multiple times, and any work that can be done to implement protocols to prevent infection is vital. "This focus on quality and safety leads to better outcomes," Dr. Anderson said.
Global Influence
In February 2016, the Orthopedics Department will lead the 1st Annual Safety in Spine Surgery Summit, where orthopedic and neurosurgical experts from around the world will gather to discuss cutting-edge spine safety. "It's gratifying to be able to leverage the skills and assets of this institution to reach a worldwide audience," Dr. Vitale said.
That worldwide footprint draws national and international referrals for treatment of complex pediatric spinal disorders. Each week, the team evaluates children from the Middle East, Eastern Europe, Asia and South America, many times from countries without specialized spine care services. At the same time, patients from high-quality medical centers in Germany, England and the United Arab Emirates travel to NYP/Morgan Stanley Children's for care when doctors say their cases present too great a challenge.
"It's hard to argue that a patient with a complex spinal deformity is going to get higher-quality care from a single orthopedic surgeon or single neurosurgeon than if they work together," Dr. Anderson said. "With these high-risk patients, there is something we can do, and we do it better together."
Read complete article with video >