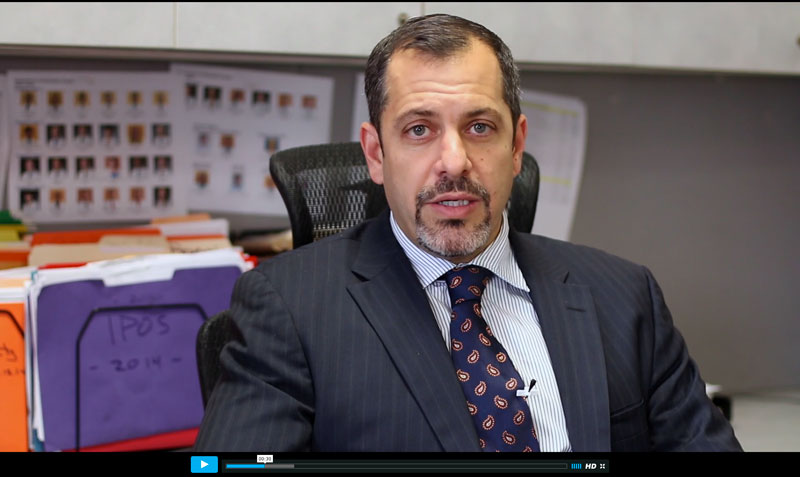 From NewYork-Presbyterian Newsletter, March, 2016:
In the last five years, researchers and physicians have learned that early treatment of scoliosis can resolve many spinal deformities that adolescents and adults encounter later in life. Techniques such as early casting, bracing and specialized physical therapy can also prevent the need for surgery.
"We've learned quite a bit about optimal treatment of young children," said Michael Vitale, MD, MPH, Chief of Pediatric Spine and Scoliosis Surgery and Ana Lucia Professor of Orthopedic Surgery, NewYork-Presbyterian/Morgan Stanley Children's Hospital at Columbia University Medical Center, in New York City. "More than half of our patients are less than 8 years old."
The 'Straight Child'
A landmark publication in The New England Journal of Medicine (2013;369:1512-1521) demonstrated that appropriate and focused bracing makes a big difference in deterring progression of scoliosis and avoiding surgery. This means laser-like attention to patient compliance with bracing, brace fit and brace correction, Dr. Vitale said. The importance of bracing led Dr. Vitale to train in the Mehta Casting Method, which guides the spine's growth by fitting a patient with new casts every few months.
The patient transitions to a brace, which uses a monitor to communicate data wirelessly between the patient and the medical team to give real-time information about brace wear, fit and curve correction. "Early literature was controversial about the effect of bracing on curve progression," Dr. Vitale said. "More recently, we became aware that children were not getting good correction from bracing."
The team at NYP/Morgan Stanley Children's Center for Scoliosis Care is focused on conservative measures such as casting, smart bracing and physical therapy rather than surgery. Dr. Vitale appreciates that the Greek meaning of "orthopedics" is "straight (ortho) child (pais)," a definition he takes as a serious personal mission. "Being a scoliosis physician allows us to obtain that goal with every child we see," he said. "The broad field ranges from age 0 to adulthood, and we have the opportunity to see the whole spectrum of care."
Conservative Approaches
To boost new conservative methods at the center, Dr. Vitale recruited Hagit Berdishevsky, a physical therapist certified in the Schroth Method, to join the team as Co-Director of The Center for Conservative Care for Spinal Deformities. This method elongates the torso and corrects imbalances of the spine by developing the inner muscles of the rib cage. By teaching corrective breathing techniques and posture alignment, Ms. Berdishevsky and two other physical therapists teach patients how to straighten and de-rotate their spines.
The Schroth Method helps patients before or after surgery and those who are not candidates for surgery because their curve falls below Scoliosis Research Society guidelines of a 50-degree curve. These adolescents improve breathing, posture, pain and cosmetic appearance by working on alignment and muscle capacity. "Our studies show the beauty of someone with a 40-degree curve looking like a zero-degree curve," Ms. Berdishevsky said. "They're so strong holding their posture in good alignment."
The Center for Conservative Care for Spinal Deformities emphasizes an interdisciplinary relationship by working with complementary brace specialists and surgeons who are open-minded about conservative management for patients who don't want an operation. Patients often undergo Schroth therapy while using a Rigo System Cheneau brace at the same time, which is provided at the center. "We communicate nonstop about what's best for the patient," Ms. Berdishevsky said. "What's nice is the doctors and surgeons are open to listening to what the therapists say, and the patients can feel it."
The exercises are determined by the patient's age, fitness, function levels and curve patterns. The movements create awareness of posture and alignment through positioning and repetition. Since most scoliosis patients have prominent ribs, lumbar or pelvic bones as part of the curvature, the method teaches strengthening and a breathing flow that promotes a decrease in the prominences and filling of the collapsed areas, restored back alignment and decreased pain. Once patients learn the method, they can follow the program at home and do them in many positions, such as sitting on a ball, lying face down, lying face up or standing in front of poles or bars attached to a wall.
Ms. Berdishevsky is one of five instructors who teach the Schroth Method through the Barcelona Scoliosis Physical Therapy School in the United States and certifies other physical therapists to use the method. She learned the method in Germany, where it was first developed by Katherina Schroth in 1927, and she continued training at the Barcelona Scoliosis Physical Therapy School, which teaches advanced concepts based on Schroth's original work.
The Center for Conservative Care for Spinal Deformities at NYP/Morgan Stanley Children's draws referrals from around the country and the world. Patients come for a week of intensive physical therapy, during which they are evaluated, measured and treated with a brace. Then they partner with a local physician for follow-up and come back to the center for checkups as necessary. "It's an intense 10 days, but patients leave with a new appreciation of a multidisciplinary approach to conservative care of scoliosis," Ms. Berdishevsky said.
See the full article with video >