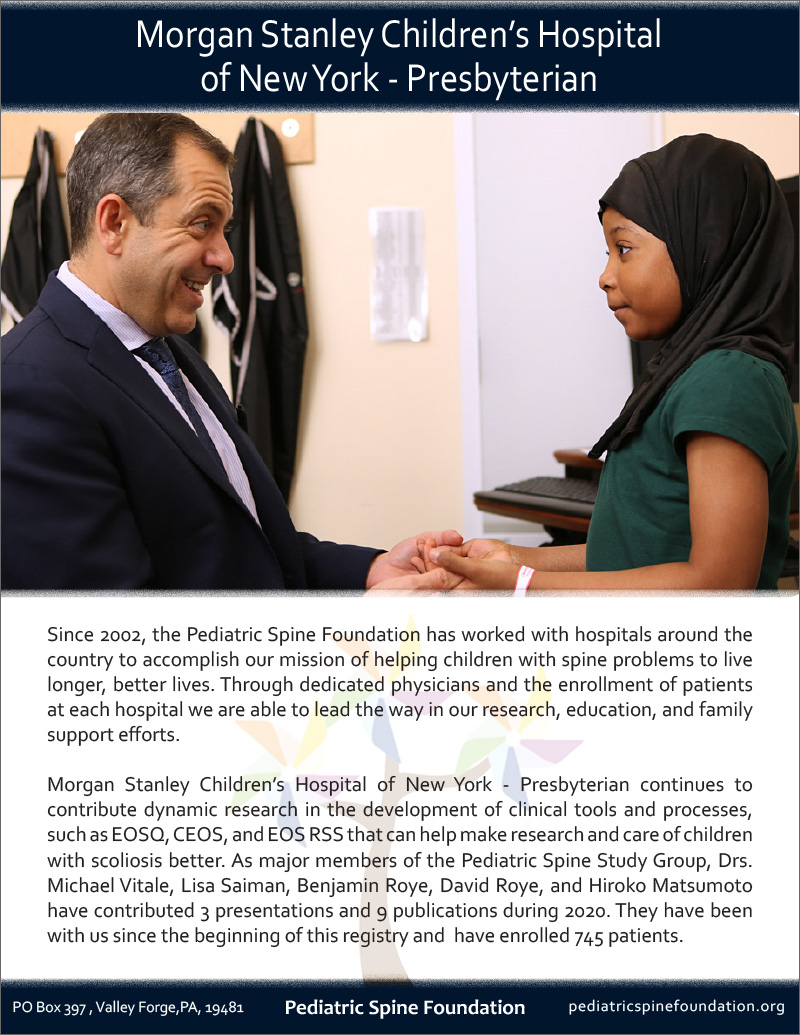 Dr. Michael Vitale and Other Major Members of Pediatric Spine Study Group—2020 Significant Contributions
Update from Pediatric Spine Study Group; Morgan Stanley Children's Hospital of NewYork-Presbyterian
Since 2002, the Pediatric Spine Foundation has worked with hospitals around the country to accomplish our mission of helping children with spine problems to live longer, better lives. Through dedicated physicians and the enrollment of patients at each hospital we are able to lead the way in our research, education, and family support efforts.
Morgan Stanley Children's Hospital of NewYork-Presbyterian continues to contribute dynamic research in the development of clinical tools and processes, such as EOSQ, CEOS, and EOS RSS that can help make research and care of children with scoliosis better. As major members of the Pediatric Spine Study Group, Drs. Michael Vitale, Lisa Saiman, Benjamin Roye, David Roye, and Hiroko Matsumoto have contributed 3 presentations and 9 publications during 2020. They have been with us since the beginning of this registry and have enrolled 745 patients.
The President's Message
While 2020 had its share of challenges, uncertainty, and change, there were many moments of simple greatness to be celebrated. In these moments, the heroic spirit of our patients, our staff, and our clinicians shone through.
Following last year's merger of two study groups, our researchers were well positioned to answer the hardest questions about the growing spine. While our in-person collaboration was limited, Research Interest Groups continued to Zoom regularly, developing a record number of research projects to pursue. In the educational arena, the annual International Congress of Early Onset Education (ICEOS) was held virtually, with many of our Pediatric Spine members receiving honors and awards!
Lastly, we are also excited to announce our new name — the Pediatric Spine Foundation. While the name is a small change, it reflects a momentous milestone for us. With over 153 participating clinicians at 72 sites around the world, our registry has grown to almost 9,000 patients. We are proud to be the largest spine deformity research organization in the world and the largest organization dedicated to better outcomes for patients with spine deformity.
Sincerely,
Ron El-Hawary, MD