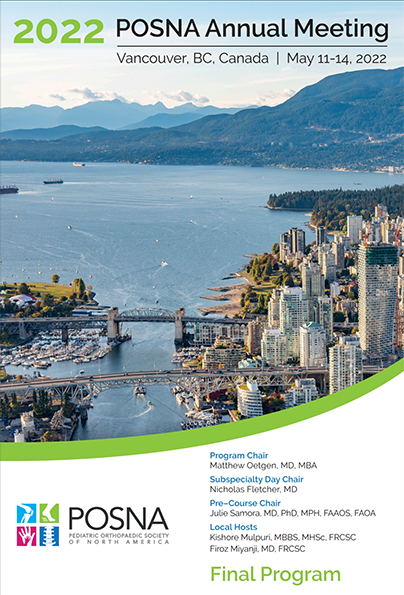 POSNA Annual Meeting 2022
The Pediatric Orthopaedic Society of North America (POSNA) Annual Meeting kicks off on May 11th, 2022, in Vancouver. Michael G. Vitale MD MPH will be presenting two lectures.
The first presentation is: "Fewer Complications in Simultaneous Detethering and Spinal Deformity Correction Surgery than in Staged Approach in Patients with Early Onset Scoliosis," which will be given on May 12th. On the following day, May 13, Dr. Vitale will present: "Upper Instrumented Vertebra (UIV) Selection Matters: Increased Risk of Proximal Junctional Kyphosis When UIV Is Below T2 in Scheuermann's Kyphosis."
Dr. Vitale is happy to be part of POSNA's ongoing effort to advance the musculoskeletal care of children worldwide through the discussion and dissemination of pediatric orthopaedic research. He is on the POSNA Board of Directors as the Immediate Past President. Please see more information about this important meeting and POSNA within the content and links below.
More About POSNA
(POSNA) is a group of professionals comprised mostly of pediatric orthopaedic surgeons. We are board certified in orthopaedic surgery and have participated in additional training to become specialized in the care of children's musculoskeletal health, and our practice reflects this dedication. We, as a group, strive to become the authoritative source on such care through appropriate research that will lead to the best evidence-based patient care.