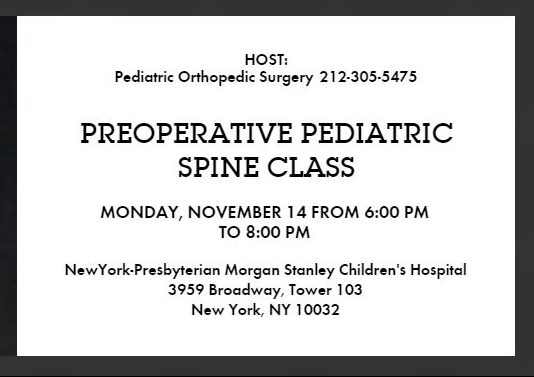 Nov. 14, 2016:
We would like to invite you to this preop class to help prepare you and your child for your surgery this winter. There will be a class held on November 14th, 6:00-8:00 PM. Our next one will be in the spring, so we wanted to give you the opportunity to attend this class even if your surgery is a few months from now.
Please see below for more information about the class:
Class is not mandatory but we strongly encourage patients and families to attend.
Ask questions; meet other patients/parents; and take a tour of the hospital.
Opportunity to meet team members you will encounter during hospital stay.
Discounted Parking: Valet at 165th and Broadway. Voucher given at class.
Held at: NewYork-Presbyterian Morgan Stanley Children's Hospital
Any questions, call 212-305-5475 and speak with either Amber, Nikki, or Jenn.
We hope that you are able to join us and look forward to seeing you there. Please RSVP as soon as able so that we can prepare for the class.
Pediatric Orthopedic Surgery