← Back
Spinal Muscular Atrophy (SMA) patient helped by Dr. Vitale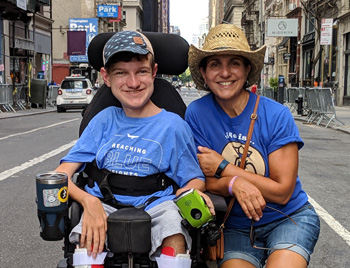 Everyone has undoubtedly had an interaction with a doctor at some point in their lives. Everyone has stepped foot into a hospital, or sat in a colorful waiting room for a check-up. Phillip has had the misfortune of needing a few more doctor's visits than the average person in his eighteen years, but the great fortune of having just the right doctors meet him in those waiting rooms. One doctor that stands
out among the rest is Dr. Michael Vitale of Columbia University Medical Center.
Before his first birthday, Phil was diagnosed with Spinal Muscular Atrophy (SMA) a disease that robs people of physical strength by affecting the motor nerve cells in the spinal cord, taking away the ability to walk, eat, or breathe. A common symptom of SMA is scoliosis, an abnormal and progressive curvature of the spine caused by weakness in the muscles of the back. Phil is not able to walk due to the SMA so he uses a power wheelchair for mobility. It was becoming increasingly difficult to maintain a comfortable, upright position in the chair due to the progression of the scoliosis. We tried external back braces in an attempt to stabilize the curve; soft, elastic and even solid molded braces were all uncomfortable and futile attempts to stop the curve progression. The progression of the scoliosis began to take away the very limited mobility he had by putting stress on his hip joints causing them to stiffen. The scoliosis also made it very difficult for Phil to breathe. His spine began twisting unnaturally against his lungs which made it difficult for Phil to cough up the common winter cold, which lead him to suffer from two bouts of severe pneumonia; both times confining him to a hospital bed for over a month. It was shortly after Phil's last fight with pneumonia that our family was introduced to Dr. Vitale, through the Neuromuscular Disease Clinic at Columbia University Medical Center.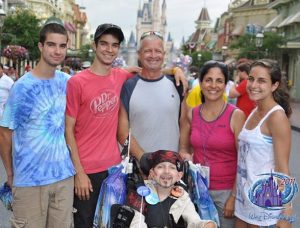 Dr. Vitale offered a solution to stop the progression of Phil's scoliosis in the form of telescoping rods on either side of his spine. In 2008, Phil underwent VEPTR surgery with Dr. Vitale. The initial surgery to place the rods in Phil's back was extremely challenging for Phil putting him in extreme pain. Yet, every step of the way Dr. Vitale and his team were there. We were sure that phil was in capable caring hands every step of the way. Phil returned for surgery every six months to lengthen the rods, and with each lengthening we saw Phil's back become straighter. In 2014 Phil had a final surgery with Dr. Vitale. This spinal fusion incorporated the full length of Phil's spine to permanently stop the progression of the scoliosis.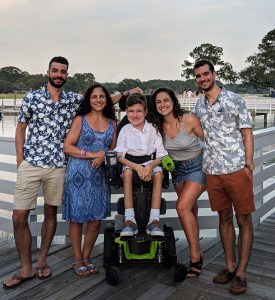 Since the spinal fusion Phil has no pain in his hips or back and his breathing is stabilized. Phil continues to have check-ups with Dr. Vitale. Our family is confident that the team at Columbia is there when we need them. Phil is eighteen now, looking forward to his freshman year, as a resident student, at SUNY Stony Brook. He participates in wheelchair basketball and power soccer without back pain and breathing easier. Everyone needs help from time to time and our family is blessed to have had Dr. Vitale and his expert team to help Phil stay happy and healthy, ready to leap into the next chapter of his life.