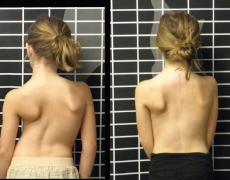 Meghan is a healthy young girl who was diagnosed with Early Onset Scoliosis when she was 6 years old. Meghan came to see Dr. Vitale soon after she was diagnosed. At that visit her main thoracic curve measured 61 degrees. Since Meghan was presenting with a large curve and she had lots of growth remaining, Dr. Vitale recommended using MAGEC ...
MORE >
Natalie was first diagnosed with scoliosis when she was 3 years old. Initially, her curve was small and was treated conservatively. However, when she went for her regular visit at age 7 her curve had suddenly jumped from 27 degrees to 63 degrees and she was referred to Dr. Vitale for further management....
MORE >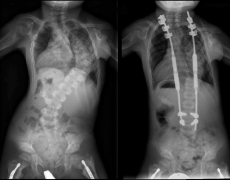 Ismaeel is a 6-year-old boy who has been seeing Dr. Vitale since he was 5 months old for several orthopedic concerns. He and his 10-year-old brother Yaseen were born with a rare disorder that causes multiple skeletal abnormalities such as short stature, bowed legs, and scoliosis. Over the years, beginning when Ismaeel was 2 years old, Dr. Vitale performed several surgeries ...
MORE >